It's no secret that Lance Armstrong is in love with himself.  He is also an incredible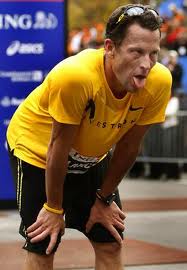 athlete.  As a result, Lance Armstrong is famous and infamous, notorious and heroic, argumentative and peaceful, and generous, but conniving.  He is a hero to most and a villain to many.  And no one vilifies an athlete better than a twisted regulatory body.  The NCAA demonstrated this so well with its recent sanctions against Penn State and like a new hit comedy show, other agencies are donning their best bib and tucker to copycat the popular new collegiate sitcom.  Now the U.S. Anti-Doping Agency (and don't tell me you didn't know we had one) stripped Armstrong of his Tour de France titles and banned him from the sport of cycling forever.  Apparently, he can't even compete after he dies.
The political ripples of this action by the USADA caused certain organizations to refuse Armstrong's entry into a number of triathlons and running events.  Howard County near Baltimore, Maryland decided to renege recently and allow the beleaguered athlete to compete in its triathlon on October 7th.  The ripples didn't just lap the shores of the Armstrong camp in this decision, as Travis Tygart, the head of the USADA, received death threats during the investigation of Armstrong.  While I'm not oversensitive about a big wig of a regulatory agency disappearing from the face of the earth, it is wrong to threaten people with death over a sporting event, unless you're from Philadelphia.  But on the other hand, what does it take to slowdown, let alone stop, these self-appointed Inquisitions from acting as judge, jury and executioner.  Chopping off the illustrious heads of sports figures such as Armstrong and Paterno damages the innocent with little effect on the guilty.  And why not break your own rules to do it.  Like the NCAA decision before, Tygart stated the USADA was entitled to act on this even though the eight-year statute of limitations expired– a rule set by none other that the World Anti-Doping Code.
Tygart also wants the International Cycling Union to strip Armstrong of his titles, but the ICU wants to see the evidence first.  Evidence?  Why wait?  Jump on the Tygart bandwagon and start changing history.  Tygart is quoted as saying, "The most important thing is to protect my team. And to maintain the respect of the athletes who don't cheat."  Who might that be?  All those good athletes whose blood tests were positive and now want to testify against Armstrong?  All those good athletes who were beaten by Armstrong?  What of Tygart himself?  I'm sure he kept a cool head after the death threats.  Who wouldn't?
I counted over 200 banned blood-borne substances in sports, including alcohol and all my blood pressure medications (there go my Olympic dreams!).  It's a wonder that any athlete can pass a blood test, piss test, or any test.  What is ironic about this list is a lot of these drugs can reduce your ability to compete.  How a wish a drunk quarter miler walked on the track when I competed.  The solution?  Ban the USADA!  Let the athletes take what they want.  I'm sure it would lead to some interesting competition.  Fill the venues with drunk discus throwers and impaired bikers.  And a word about steroids . . . let'em rip!  If a biker wants his tits to swing that low and they get caught in the brake levers, well, it'll be entertaining as hell!