One day my father told me it doesn't pay to be too smart.  I asked what he meant by that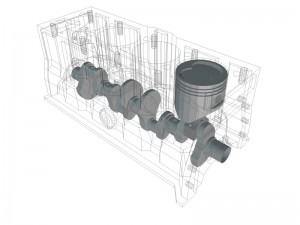 and he said, "Because if you're too smart, everyone will be after you to do things."
"Like who?"
"Family and friends!"
"What things?"
"Everything!"
He never followed his own advice, probably because he realized the problem too late, or he just enjoyed working like a mule.  My father was a jack-of-all-trades and master of all.  His trade was a carpenter, but he was a plumber, electrician, heating specialist, auto mechanic, appliance repairman, general service person, and berry-picker.  And for friends and family, the price was right!
I was sure I'd never fall into that trap!  Alas, somewhere between my father's advice and a university education, I failed.  I became too smart, and the family caught on!  Since my father taught me carpentry and most other construction trades, building my own house was a must.  Thirty-five years and counting, I'm almost done.  Why so long?  Well, there's all those accessory buildings, remodeling mother-in-law's place, remodeling mom's place, and, over thirty-five years, keeping a total of twelve vehicles roadworthy.  Fit in working for a living, and that profiles one dumb mule.
As an example, I thought I'd share my latest adventure . . . replacing a timing belt on a 2001 Chrysler PT Cruiser.  It's not my Cruiser, of course, it's my daughter's.  You get the point.  So fire up the smart phones and i-pads NASCAR fans!  Welcome to TOP DEAD CENTER!
I'll skip the diagnoses and suffice to say that the car won't start.  I determined the timing was "out of whack," and it probably needed a timing belt.  After a 200 mile tow, the  precious little piece of machinery is tucked comfortably in my garage.  Over the next few days, it will be the only damned thing that's comfortable.  Now, it is prudent to determine what tools I'll need for the job.  I composed the following list and although not all these tools are absolutely necessary, they all make the job easier; I will use every tool listed:
Three (3) ton floor jack, One-and-one-half ton floor jack, 3-ton jack stand, 200 psi air compressor, 150 psi impact wrench, 75 psi air wrench, 50 feet of air hose with filter and oiler, 1/2 inch drive ratchet, 3/8 inch ratchet, metric deep sockets for both ratchets, 1/2″ sockets for impact wrench, set of metric open end (spanner) wrenches, 12 inch 2″x4″, two (2) flat blade screwdrivers, mechanics stool, toolbox step stool, needle-nosed pliers, pump pliers, full-face shield, cotton gloves, mechanics gloves, three-jawed gear puller, 1/4″ x 16″ wooden stick, portable standing shop lights, hand-held shop light, WD-40 spray lubricant, hand-held mirror, two (2) pair of vise grips, four (4) 2″x4″ blocks 12 inches long, an extendable pick-up magnet, and a stray cat.
For more info on engine timing, click here!
I found most of these tools in my kitchen drawer, so I felt confident about beginning the work.  To replace a timing belt on any faux "cab over" design, you must essentially dismantle the front of the car.  The engine is transversely jammed like a walnut between the fenders, firewall and grille of the serendipitous design.  This translates to three (3″) inches of clearance between the right fender and engine block of a PT Cruiser.  Three inches for tools, parts, pulleys, and . . . your hands . . . hands that will feel as big as King Kong's before this is over.
Removing parts from a car is fun and easy.  Putting them back on this vehicle is the equivalent of shoving blueberries up a wildcat's ass!  But my bad manners aside, let's not lament the assembly yet, but relish in the disassembly!  I deem this type of removal the oblique right method, starting with the right front fender and taking off parts along a 45 degree angle, until you reach the timing belt.  When you do, a PT Cruiser will look something like this: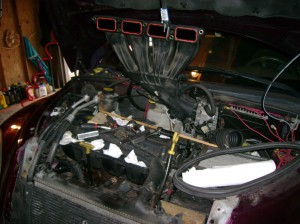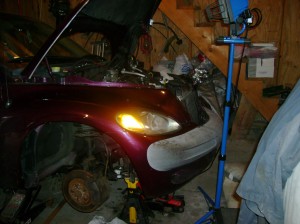 Now, without detailing all the knuckle-busting antics involved,  I suppose you're wondering how this all turned out, and maybe why a stray cat.  Well . . . .  the cat was good company.  As for the car, I'll let you know.  I'm hoping to finish it before the house.