Who comes to mind when you think about the world's most successful coach?  A lot of big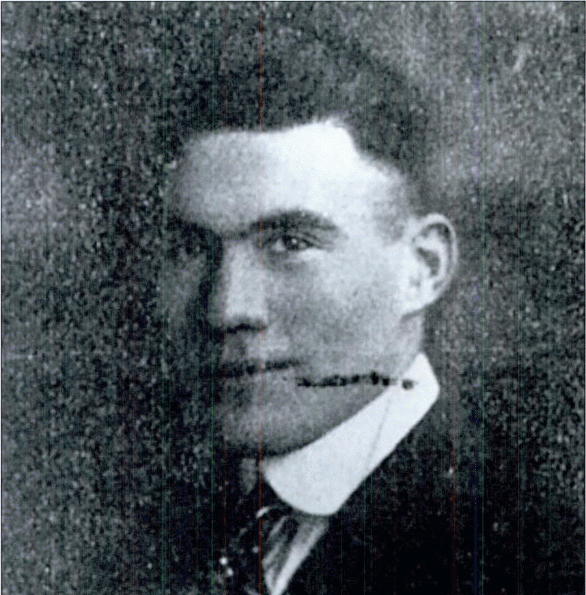 names impress us, particularly in the National Football League and for good reason.  It's tough to win in the NFL and names like Vince Lombardi, Don Shula, Chuck Noll, Paul Brown, John Madden and Tom Landry are remembered not because they were good coaches . . . they were great coaches.  The memories of great college coaches also abound – Bear Bryant, Ari Parseghian, Woody Hayes, Knute Rockney.  From women's basketball to high school football, there are hundreds of obscure coaches like Larry Kehres, Jack Curran, Scott Rueck and Gil Steinke.  Many were descent athletes before they plunged into coaching; some were not.
I met a man in 1966, who produced more undefeated teams, either as a player or mentor, than anyone I know, yet, he died in obscurity in Linwood, New Jersey in 1972 at the age of 78.  A talented multi-sport athlete and coach, his name was Claude Newberry, but everybody called him "Chief."
Chief was one-quarter Mohawk Indian and his Native American heritage dominated his features.  Bronze skin and a lantern jaw complimented his coal-black hair, which swept straight back from his forehead.  In his later years, his dark eyes sparkled as he went back in time, telling tales of the gridiron, ball diamond and boxing ring, his weathered face and jaw set in fiery determination.
Chief's athletic career began at Neptune High School in New Jersey, where he captained the football team and returned to coach winning teams until 1924.  He won two (2) state championships both as a player and a coach, one in 1912, the other 1923.  Winning, let alone capturing state championships, was tough at Neptune, since Newberry's football squad consisted of about 19 boys, smaller than most of Neptune's opponents.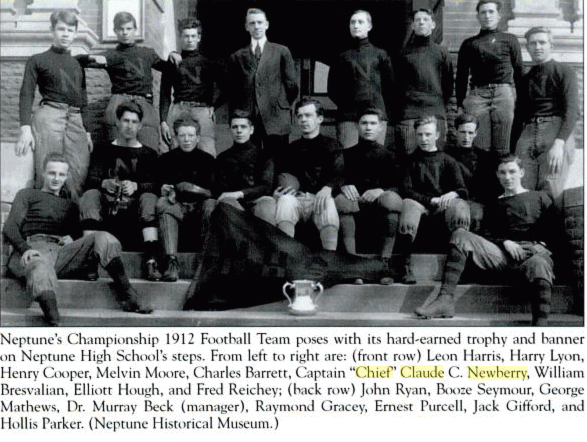 The power and tenacity of Newberry's Neptune team is demonstrated in the following story from 1922:
Atlantic City High School, a top enrollment, Class "A" team, booked a "breather" before a big Thanksgiving Day rival game with the National Farm School (Delaware Valley College).  That "breather" was little Neptune High School and A.C. was riding a five game winning streak, all shutouts.  Newberry's band of gridiron bandits beat Atlantic City 6-0.  Atlantic City went on to win the South Jersey Championship.  The following year, Atlantic City traveled to Neptune bent on revenge for the earlier loss, but Newberry's boys slaughtered the Vikings 32-0, their only loss of the season.  As the all-sports coach at Neptune, his baseball team was also stellar, capturing the New Jersey State title in 1923, the same year as his football championship.  The diamond players racked up a record of 23-0 against its opponents.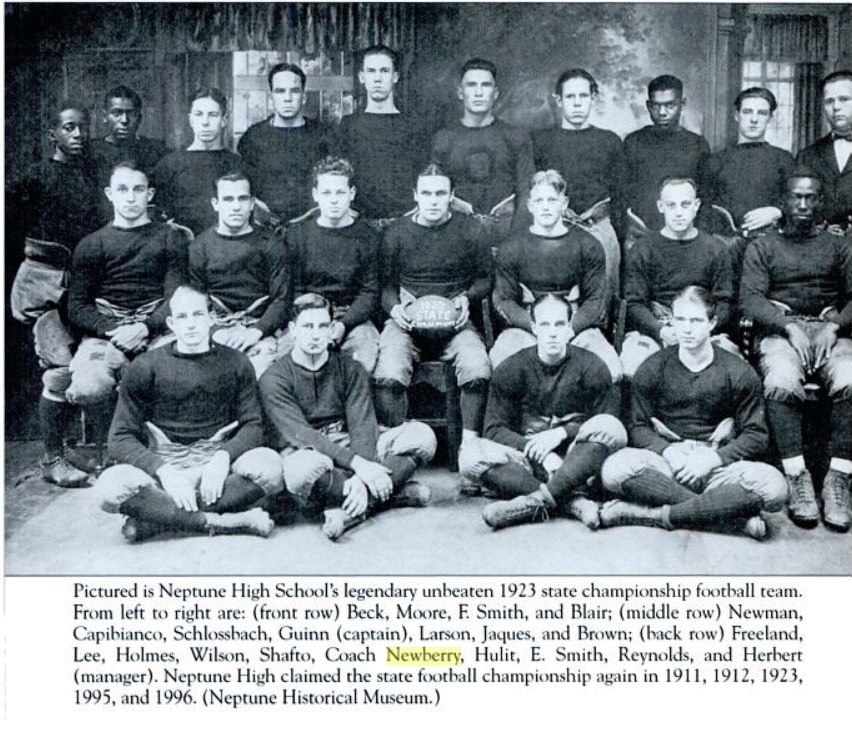 The following year, Atlantic City was undefeated, but Chief was now coaching for Atlantic City!  In the spring of 1925, Coach Newberry helped coach the Viking baseball and track teams, both winning their respective South Jersey Championships.  He left Atlantic City's team after a year to become the athletic director at Upsala College, but the draw of the gridiron was too strong as he took the helm of the football team at Manasquan High School and produced two consecutive title teams.  His success attracted attention up and down the East Coast and he was lured to Florida where he produced a string of unbeaten the title teams for 12 years for the Miami Military Academy and the Florida Military Academy.  His 1933 Miami football team was not only undefeated, but held all opponents scoreless.
---
After high school and before his coaching career, Chief attended Syracuse University where he was a outstanding fullback.  He also played basketball, ran track and played baseball for the Orangemen.  In between, Chief would do a little boxing and wrestling on campus just for fun.
He played professional football for the Atlantic City Roses and the Newark Tornadoes for a few years as a fullback, quarterback, placekicker and punter, but severe knees injuries slowed him down after a few seasons.  The ravages of the old injuries caused him to shuffle in old age.  But the fire was still there as I watched him slowly drag his feet, open the trunk of his car, a black 1958 Chevy, and pull out an old football.
"Let me show you the secret to punting the football," he said in a deep voice.  "Now I can't really punt it far anymore, but I can show you the basics," he continued as he dropped the ball and launched a perfect 30 yard spiral.  I was amazed that this old man could hardly walk, but kicked the ball so perfect and with such ease.  He grinned as he watched the ball sail and hit the ground.  He stared across the field for a moment and I knew he was somewhere else . . . somewhere else in a different time.  He loved football.
I walked into the church at Linwood, New Jersey that hot summer day in 1972 with my father.  Chief was there, lying in state in front of the church, his wife, Peggy, crying and sobbing, "My Chiefy . . . God's taken my Chiefy!" At the sight of my father, she jumped to her feet and clung to my dad, still sobbing "My Chiefy!"  As I walked to the casket, the barrel-chested Chief looked much in death as he did in life.  Still robust, still bronze, but silent.  The grimace on his face was the same one I saw when he described how determined he, or anyone, should be when running with the football.  My father stayed for a few minutes to console Mrs. Newberry.  No one else was in the church.
As we left, I turned and looked back at the sad, lonely scene.  It didn't seem right.  What of Chief? I thought.  What of Chief?