I'm waiting for the guy who walks into the party and exclaims, "O.K.  I don't care who it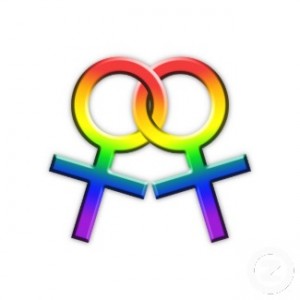 offends, but I'm heterosexual!"  Will anybody care?  Probably not.  Perhaps it will invoke a few chuckles, maybe a couple of raised eyebrows, but that's it.  So why does anyone care if someone "comes out" and declares he or she is gay.  Sadly, we are not as far along as I once thought.
The latest news in the gay parade is Jason Collins, the NBA star that announced his sexual preferences and, as a result, was even interviewed by George Stephanopoulos on ABC's Good Morning America about it. Apparently he is the only major league sportster to openly discuss his sex life of the four major sports leagues.  Can sports stats get any more complicated?  And Jason says he's the only gay man in the NBA, as far as he knows.  It must be tough to get a date in the NBA plus adding a whole new dimension to the term "court" in basketball.  Jason also can't believe the support he's getting from other players in the league and even the President.  Support?  For what?  He's gay!  So what?  Apparently, to maintain the ludicrous ideals of political correctness, we are willing to act like 1950's sycophants and make a big fuss that it's O.K. to be gay.   Back in the 1950's, perhaps a sports star or movie actor would need some public support, since the general public still believed that men were men and ships were wooden, but we've come a long way since then.  Or so I thought.
In the good old days, even big movie stars kept such secrets in fear it might corrupt their careers due to prejudice and bigotry.  Sometimes it wasn't until a star died that the general public was given the truth, as was the case of Perry Mason star, Raymond Burr.  Other stars slowly admitted to homosexuality and both we and the stars survived.  Montgomery Clift, Paul Lynde, Rock Hudson, Dick Sargent, Robert Reed, Marlon Brando and George Takei all survived with lives and careers intact.  Most careers even flourished after the news which paved the way for others to admit that they just weren't too fascinated by the opposite sex.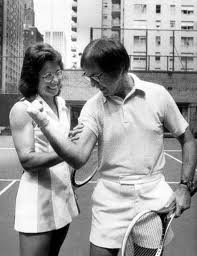 For decades, some of the best moments in sports were a result of homosexual competition.  Who can forget the Billie Jean King versus Bobby Riggs tennis match?  So arrogant and boastful was Bobby Riggs that even devout Christians and Genghis Khan followers were cheering for King.  King handed him his ass, defeating him, 6–4, 6–3, 6–3.
Other notable gay athletes are Martina Navratilova, Kwame Harris (NFL), Hohn Amaechi (NBA), and diver Greg Louganis.  They're all great athletes living normal lives after "coming out" during or just after their sports careers.  Their fans are steadfast and still admire them.  So to Jason Collins and his headlines, well, it's been done before.  You're gay, we don't care, get over it!