Some of us are old enough to remember when driving was fun.  Driving meant the open road, less traffic, and no electronically distracted drivers.  Men were men, ships were wooden and gasoline
was loaded with lead.  Sometimes, when I'm sitting at my desk, I close my eyes, breathe deep, and dream of a bygone era.  Often, I can actually feel the polycyclic hydrocarbons of the car exhaust tickle my nose.  And granted, my view of past driving experiences are of a younger man in a muscle car tooling down the road on black strips of bumpy, patched highway where the car models are still distinguishable.  No jelly-bean designs or water balloons on the road in the 60′s and 70′s.  Just big square hunks of metal whose engines outweighed the frame, fenders and wheels as they plowed through air, leaving a streak of asthma-inducing exhaust behind.  Ah, as the old adage goes, Those were the days!
Now, with all the safety features imposed on automobiles and less vehicle deaths per mile, there's still a one in 88 chance you'll die in a car crash.  But putting car kills aside, how many deaths can we attribute to health problems associated with the day-to-day aggravation of piloting the roads filled with idiots without one wit of navigational skill?  Fat is building on my arteries even thinking about my trip to the dentist.  If an emotional aneurysm is in your future because of these inept drivers, I'm sure you'll agree with some of these observations.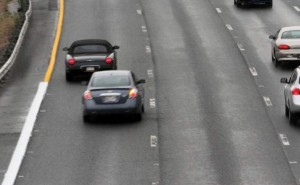 Heading the list of stupid driving tricks are the guys and gals who own the left lane, or "left lamers."  It seems most of the states in the union suffer from this malady, but the drivers in the eastern states, particularly New Jersey and Pennsylvania, act as though this was a right answer on their driving test.  Undaunted by the law, these road kill morons bounce along, mile after mile, usually pacing a car to their right, allowing massive lines of traffic to pile up behind them.  Any attempt to pass these creeps are met with dirty looks, middle fingers and shaking fists.  Cars keep sliding by to the right, but these rail huggers never get the message.
Another frustrating maneuver, for we "good" drivers on the go, is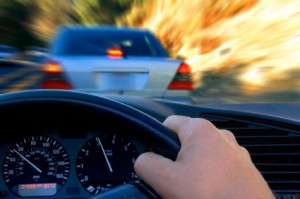 the one where the clueless bastard at the wheel slams on his brakes, THEN flicks on the turn signal.  In the early seventies, I worked with a gentleman who was so enraged by this act, that he carried a pellet pistol in his truck.  Offenders permanently lost the use of that particular blinker lens and bulb as this guy was a crack shot.
Then, there is the self-appointed traffic cop.  This is the chowderhead that thinks you need help with the rules of the road, like when you're turning left at an intersection and he's going straight, BUT waves you through!  It never occurs to this moron that if he just followed the rules of the road, everyone would clear the intersection faster, or maybe, just maybe, you really can't see his stupid hand gestures through his reflective windshield on this bright, sunny day!  It's unlawful to direct traffic without the authority to do so and for good reason.  Many accidents occur while someone distracts you through his or her windshield prompting many states to pass laws delegating liability to those responsible for such stupidity.  It's another group undeterred by the law as they keep waving you toward the abyss.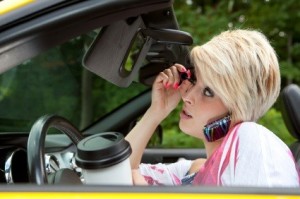 Finally, there are drivers that do anything but.  Europeans are fascinated by the distracted American driver.  In Europe, driving means just that, you drive.  A European driver might slip in a CD for the ride, but other than that, they generally do not shave, apply eye mascara, or balance a cup of coffee with one hand while eating a doughnut in the other.  The typical American commuter is a hazard not seen on das Autobahn! Good thing for the Germans!  And the best thing about the autobahn?  If you drive in the left lane and you're passed on the right, you're ticketed.  Imagine . . . a line of left lamers parked on the shoulder of the road as a state trooper makes the rounds.  Driving is fun, again!