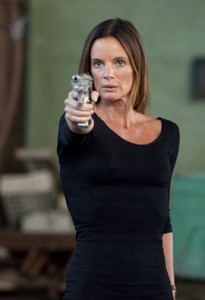 It's a fact that women are moving up in the world, particularly in the world of entertainment.  If you're a typical man,  you probably believe women are advanced enough, and if a woman, it's still a man's world and you, as a woman, deserve a lot more respect.  There are a number of "tough" women gracing the small screen, and most networks purposely air their share of tough gals.  Surprisingly, a lot of women like watching these tough females, and men, with a traditionally short attention span, really like watching them!  I thought it would be fun to share my top five (5) picks for "Tough Gals of Television" with a brief explanation as to why I chose them.
Coming in at number 5 is actress Gabrielle Anwar who plays Fiona Glenanne on the hit series Burn Notice.  Fiona is an ex-IRA operative and ex-girlfriend of the main character Michael Weston (played by Jeffery Donovan), a "burned" spy for the CIA looking for redemption.  Fiona meets up with Michael in Miami and decides to help, but she doesn't count on how Michael (as she calls him) is going to make a living . . . by using his old spy skills to help others.  She sees plenty of action as a gun-toting, bomb-wielding, double X chromosome side-kick and with a shoot-first-ask-questions-later attitude, Fiona helps Michael carry  out his clever spy schemes time and again.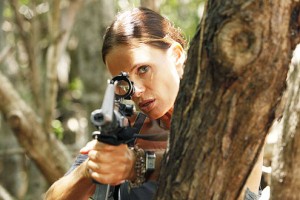 Gabrielle Anwar is buff, to say the least, and easily convinces us that she is truly a trigger-happy anarchist.  In a recent interview,  she admits her props (the guns) are heavy and she "just swings them around, sometimes hitting Jeffery in the balls," but with outtakes aside and a boom and a bang, the final product is effective.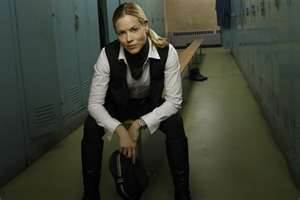 NBC's Prime Suspect star Maria Bello is fourth on the list of tough women on TV.  She plays New York homicide Detective Jane Timoney who transfers to a new and unwelcoming department.  The 1970's throwbacks in her precinct are quick to tell her they don't like a woman in their midst, but grudgingly admit she is a top notch detective.  Wearing an alpine hat and New Jersey State Trooper boots, it's obvious Timoney's  fashion sense is skewed and you wonder if she's ever showered, but that's probably what you want in a homicide snoop.
In a recent episode, Timoney is evaluated by the requisite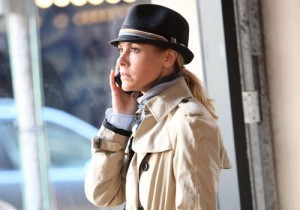 department psychologist after shooting a suspect in an all out gun battle. She admits she was scared, but she was excited, too.  She liked it.  And that's the whole show, scarey, exciting and rude.  Timoney is both stressed and no-nonsense at the office, at crime scenes, and at home.  Again, probably what want you want in a homicide cop.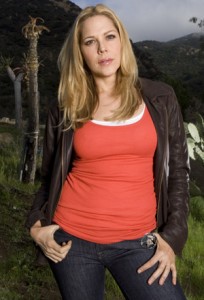 Displaying a real bad attitude wherever she goes and to whomever she meets is number 3, actress Mary McCormack as Mary Shannon, a U.S. Marshall assigned to the Federal Witness Protection Program on In Plain Sight.  Shannon is a wise-cracking, unfeminine hulk of a woman who dislikes just about everybody, except for her close friend and partner, Marshall Marshall Mann (yes, the character's first name is Marshall).  Besides contending with the whims of narcissistic witnesses and the criminals who want them dead, Mary's family is enough to make anyone set his or her head on fire.  Her mother (played by Leslie Ann Warren) is an alcoholic ex-dancer, while her sister, Brandi, is a whiney, if not compassionate, wanna-be.  Both place demands on Mary that complicate an even more stressful career.  And that's just the mental stress.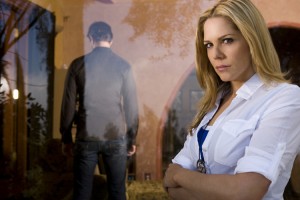 Occasionally beaten, kidnapped, covered in brain matter, threatened with death, and shot once, Marshall Shannon pulls herself off the ground, deathbed, or whatever spot she's knocked down or thrown, and marches off  with a scowl and smart-ass retort . . . and does it all over again.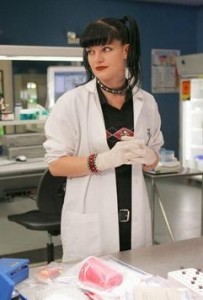 Pauley Perrette portrays Abigail Sciuto on the CBS hit show NCIS, as a top forensic scientist, and garners second on my list of Tough Gals. Abby Sciuto is sort of an enigma as a toughie on TV, since she abhors violence and, when threatened, ducks under a lab table and hides, but she proved herself tougher than a pine knot on more than one occasion.
In the episode Bloodbath, Abbey is stalked by a murderer and an ex-boyfriend.  After the NCIS team captures the ex-beau, everyone believes Abbey's safe, so she's chauffeured home in a official van driven by a U.S. Marshall.  The Marshall is an impostor and the real killer, a fact the investigators realize too late.  With Abbey  trapped and alone with a murderous wolf in sheep's clothing, the NCIS team races to intercept the van.  Dressed for court instead of her normal Goth-style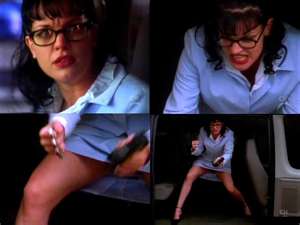 garb (Abbey insists she's not Goth!), she's at a distinct disadvantage in a skirt and heels.  When NCIS intercepts the van,  the side door slides open and the would-be murderer rolls out onto the ground screaming from the taser leads attached to his side, courtesy of our esteemed scientist.  Abbey stands in the van door, taser in one hand, brass knuckles on the other, screaming, "And don't look up my dress!"
NCIS scores again with the number one toughest lady on television with the beautiful Cote de Pablo as Ziva David (pronounced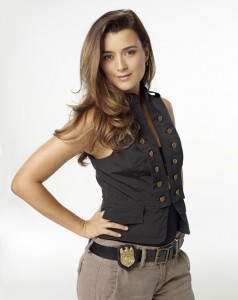 Da-veed').  The character of Ziva originally joined the cast of NCIS as a liaison from Mossad, the secret service of Israel.  Her job with Mossad?  Political assassin!  Although a native of Chile, Ms. Pablo is convincing as an agent from a land where the little girls are raised like men.
Once accepted as an NCIS agent, Ziva must tell the Director of Mossad she is quitting and applying for U.S. citizenship.  But this worse than a tearful goodbye . . . the Director is her father who doesn't take kindly to her working for the Americans.  Making family matters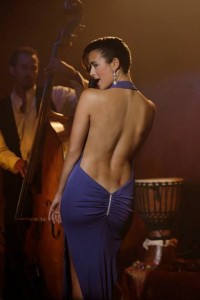 worse, Ziva kills her half-brother to save her boss, Jethro Gibbs (Mark Harmon)!
Ziva is a bombing suspect on the run in the episode Shalom! and must somehow coerce a foreign female assassin to confess to the deed.  Near the end of the episode, Ziva tracks the anonymous bomber to a hotel room where Ziva apparently meets her match as the assailant beats and tosses her around at will.  As Ziva lies on the floor,  beaten, bloodied and bruised, the foreign assassin gloats how she is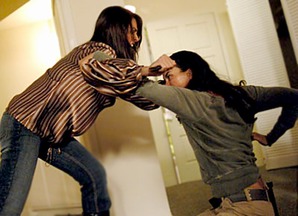 an Iranian operative and Israel will be blamed for the bombing deaths.  Ziva smiles and tells her, "It was easier than I thought!  Making you to talk!"  Ziva leaps to her feet and strangles her!  Now that's one tough lady!
There is one actress missing from this list who plays a very tough character, the lovely Maggie Q as Nikita.  Reason for not including Nikita?  She is a cold-blooded assassin capable of killing any man, woman or child on the planet.  She belongs on a different list.
Finally, there is one honorable mention on my list– Sharon Gless who plays Madeline Westen, Michael's mother, on Burn Notice. Many television buffs remember her as Christine Cagney on the crime drama Cagney and Lacey, but I honor her here for the amount of cigarette smoke she inhales during the filming of each episode of Burn Notice.  Rarely is this nicotine-studded star in a scene without a drink in one hand and a cigarette in the other. 
Maddie doesn't work out, eat, or even sip a cup of tea on an empty lung!  My sinuses stuff up every time she's in a scene.  Long live Sharon Gless!